HIGH PRESSURE HORIZONTAL MOULDING LINE
Equipped with PLC operated DISA FLEX 70 Flask type Horizontal moulding line, producing 84 moulds per hour.
Flask mould: Box size – 1000 mm x 700 mm x 325/325 mm.
Casting weight up to 150 kg.
Automatic core setter.
Automatic Mould handling system (AMC) – 75 meters and pouring line of 24 meters.
Cooling time : 2 hours in box and 3 hours in atmospheric cooling vinar conveyor.
Automatic venting system.
SAND PLANT:
High Pressure Horizontal Moulding Line has the most modern sand plant facility consisting of :
85 Tons per hour, PLC operation integrated sand plant with SCADA (Supervisory Control Data Acquisition Software)

120 Tons return sand storage hoppers – 2 no's

40 Tons new sand hopper – 1 no's

20 Tons return sand hopper(Hot sand hopper) – 1 no's

Sand cooler junction with 65 Ton return sand hopper and Fluidized bed sand cooler with water spray- 1 no

DISA TM285 with batch capacity 3200 Kg Horizontal Intensive mixer – 1 no with sand multi-controller system – 1 no
SMC – SAND MULTI CONTROLLER: The sand plant mixer is equipped with ONLINE computerized DISA Sand Multi Controller which controls the set sand properties to deliver the right sand batch at all times for moulding.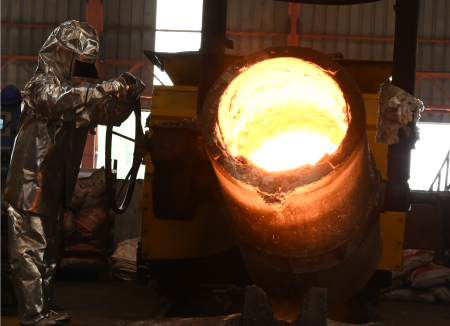 MELTING:
Tri-track Inductotherm furnaces with 9.5 tons capacity of liquid metal per hour.

Panel capacity Inverter 2500 KW & converter 5000 KW, tri-track.

Crucible capacity – 3000 kgs (3 Crucibles with accessories)

Vibro charger for Scrap charging – 3 no's.

Energy master for controlling melting cycle
AUTO POUR-INDUCTO THERM-UNHEATED TURNDISH– LIP POURING MECHANISM
The pouring Tundish has a metal holding capacity of 1500 kgs.

It has a refractory lined structural steel exterior case with charging port, and pouring cover.

The lip pour with mechanical tilting arrangement with constant pouring height and control

metal flow through PLC for ultimate pouring efficiency and synchronized with Mold line with TEACH IN operation ( Fully automatic without operator).

It is integrated with Inductotherm's MSI (Metal Stream Inoculation).
CORE SHOP: Core Making Process 

Shell core

Cold box core

No bake core
Core Making capacity – 2000 MT/Month
For effective supply of cores for production in time, the following high end machineries are installed :- 
Fully automatic universal cold box core shooter machines – 25 Kg capacity with vertical parting line of mounting plate 600 mm X450 mm. –  2 no's.

Fully automatic universal cold box core shooter machines – 100 kg capacity with vertical parting lines of mounting plate 900mm X 750 mm –  2 no's.

Shell core Shooter with a mounting plate size of 600 mm x 450 mm -1 no's.

Electrical type core design oven capacity-  2 no's.

Core storage trolleys- 400 no's. 

Over pouring & dipping process for core coating.

Fully automatic pneumatic sand transported & PLC controlled binder dosing units.

Automatic sand drier system with sand cooling system & fine extraction capacity of 5 tons per hour.
MATERIAL HANDLING:
3 Ton capacity Voltas forklifts. – 2 no's.

5/ 5 Ton capacity EOT Crane with magnet for raw material and liquid metal handling – 3 no's.

5 Ton capacity XY rail crane arrangement system in fettling. – 5 no's.

Portable Mild steel bins for storing and transporting castings.

JCB make earth mover for disposal.

Tractors with trolley for transporting in house – 2 no's.

Vinar overhead cooling conveyer for transporting casting from foundry to fettling shop of 360 meter (250 Hangers).
FETTLING SHOP& PAINTING:
SEIPL has a unique stand-alone fettling shop, with 100% in-house finishing of the casting with a capacity of 3000 Mt/Month.
Fully automatic continuous hanger type, Shot blasting machines with a capacity of 1000 Kg for each batch – 2 no's.

Swing Frame grinders – 15 no's.

Disc Grinders (AG4,AG9, FLEXIBLE DISC).

Mount point – Pneumatically operated air grinders.

0.5 Ton capacity XY rail crane arrangement system  – 3 no's.

Automated wet type paint booth for achieving high quality paint finish –  2 no's.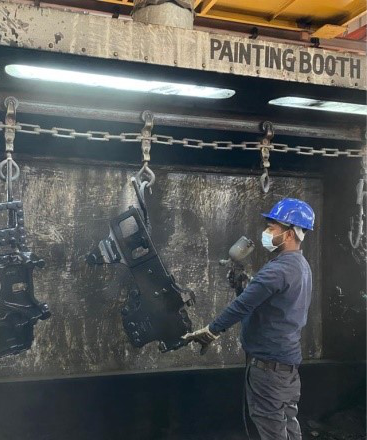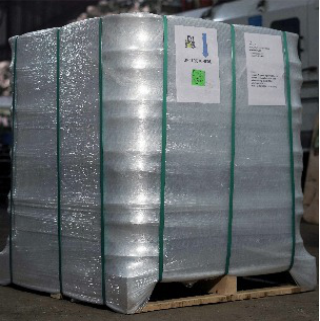 PACKAGING FACILITY:
We are stringently following the packing standards as per customer specification for dispatches from our end. This process places very important role to ensure the quality and prevent the rejections at the customer end.
Special shrink wrap packing machine for quality and cost effective packing – 2 nos

Bar coding Machine –  2nos 
 UTILITY:
Air Compressor, Capacity 450 CFM –  3nos.

Air Dryer ,Capacity  500 CFM – 3nos.

Diesel Generator Set, Capacity 550KVA – 1nos.